8 Great Cinnamon Rolls in Arkansas – onlyinark.com
In Arkansas, the vaunted cinnamon roll can be found at bakeries and restaurants in every corner of our great state. Some are better than others, but these are my favorite eight (in no particular order).
1. PattiCakes Bakery (Conway)
The cinnamon roll at Patticakes is as classic as it gets, just a wonderful balance of cinnamon, sugar, and icing to go along with a soft dough. "Our scratch-made cinnamon roll is filled with buttery cinnamon goodness, and the icing has a secret ingredient to give depth to the flavor," says owner Patti Stobaugh.

2. Wild Sweet William's Bakery (Searcy)
There is really nothing not to love about any baked good that comes out of Wild Sweet William's, and that includes the cinnamon roll. "When we opened, I was determined not to make cinnamon rolls! I mean, really, the world has plenty already, right? But we received so many requests for this classic roll, that I finally gave in. Now, as fate would have it, it's without a doubt the pastry that I don't want to live without. It's my constant go-to when I need some Baked Love. The Wild Sweet William's Cinnamon Roll is colossal, it's Communal, and it's made to share," says owner Lisa Ford.


3. Cinnamon Crème Bakery (Little Rock)
At Cinnamon Crème, they keep things simple, not worrying about a perfect appearance, but rather, a more rustic look that proves to be just as enticing. The rolls here are massive, and you'll also want to keep an eye out for the various options–like the insanely delicious blueberry cinnamon roll–that pop up from time to time.


4. Pressroom (Bentonville)
Only available during Pressroom's brunch service, the "Big Sticky" Roll certainly lives up to the name. It's huge, buttery, and covered with pecans. The folks at Pressroom even display the roll front and center, making it almost impossible not to order.


5. Will's Cinnamon Shop (Hot Springs)
The folks at Will's Cinnamon Shop definitely know their way around a cinnamon roll. "Everything in our shop is made from scratch and baked daily. And yes, we have several kinds of icing. Icing, aside from the taste, is the reason I don't like rolls from that 'big chain.' I hate cream cheese, and they only offer cream cheese icing. We wanted to give people the option of what they wanted on their rolls, either sugar-based, cream cheese-based, none, or sometimes fresh fruit or fruit toppings. We think cinnamon rolls are meant to be eaten warm and because of that, the icing is always added after heating it," says owner William Byrd.


6. Ferguson's Country Store and Restaurant (St. Joe)
This cinnamon roll has its own billboard, a wise move by the folks at Ferguson's. And the actual cinnamon roll is almost as big as the one on the sign. This huge, gooey rendition is covered in icing that ends up dripping down all the sides. Make sure to check hours, as Ferguson's is closed for the season.


7. Briar Rose Bakery (Farmington)
Other than your dreams, have you ever seen a cinnamon roll served in a sandwich format? Yes, at Briar Rose Bakery in Farmington (near Fayetteville), dreams do come true. The traditional cinnamon rolls are also available.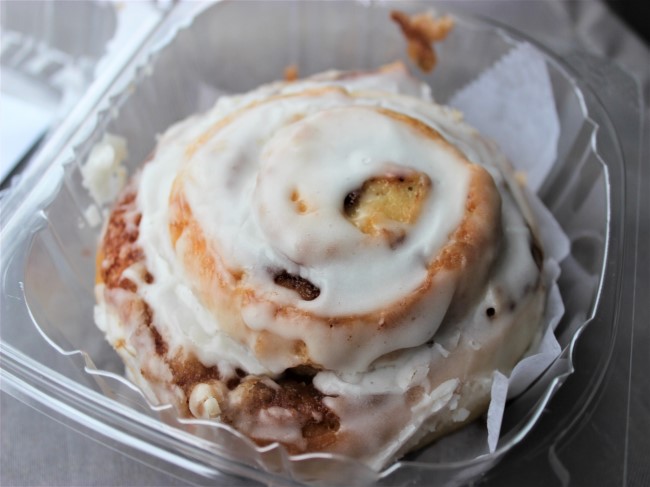 8. The Humble Crumb Bakery (Sherwood)
This is another classic cinnamon roll, with a nice balance of cinnamon and sugar, as well as an ample portion of icing. In short, The Humble Crumble doesn't overdo anything, relying on thicker dough that's perfect to the bite. It arrives slightly warm, a clear indication its time in the oven wasn't far in the past. The bakery has limited hours (Friday from 6 a.m.-noon and Saturday from 7 a.m. –noon).
*PattiCakes Bakery and Will's Cinnamon Shop pics courtesy of the restaurants