Do The Watermelon Crawl – A Cave City Road Trip – onlyinark.com
Cave City watermelons are arguably the best watermelons in the world. And Cave City, Arkansas, has rightfully earned recognition for being the home of the world's sweetest watermelons. We know some will argue that Hope watermelons are better. Regardless, it's high summer, and I'm ready for a sweet treat. So, we're hitting the road searching for an official Cave City watermelon and checking out some other sites along the way.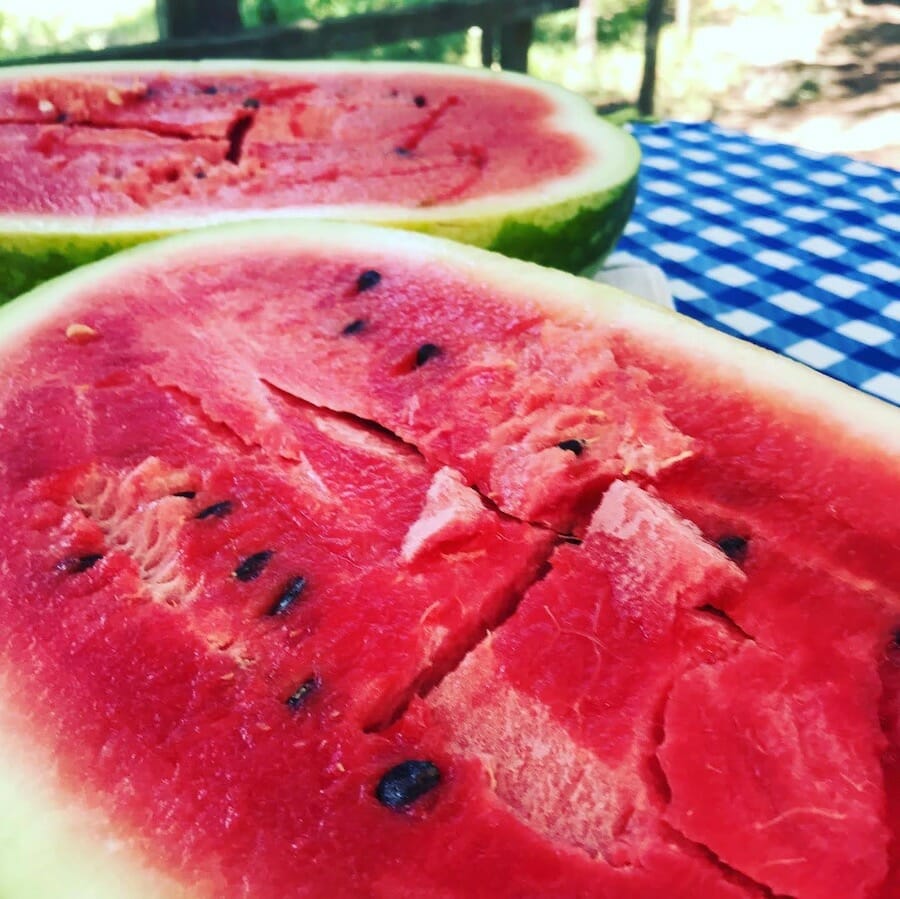 Cave City seems in the middle of nowhere. And if you are coming from anywhere in Arkansas, it can be a bit of a haul. Although I'm perfectly content to drive two hours just to buy a $15 watermelon, you may need some convincing.
Real, authentic Cave City melons come from registered growers and have an official sticker on them. If it doesn't have the sticker, it's not an official Cave City watermelon. You can buy the melons outside of the city, but supply is limited and there are imposters. So I prefer to go right to the source.
The first step of this epic watermelon road trip is to select a registered grower and make certain that they have melons available. My grower of choice is Johnson Brother's and I can find all of the latest information regarding availability right on their Facebook page.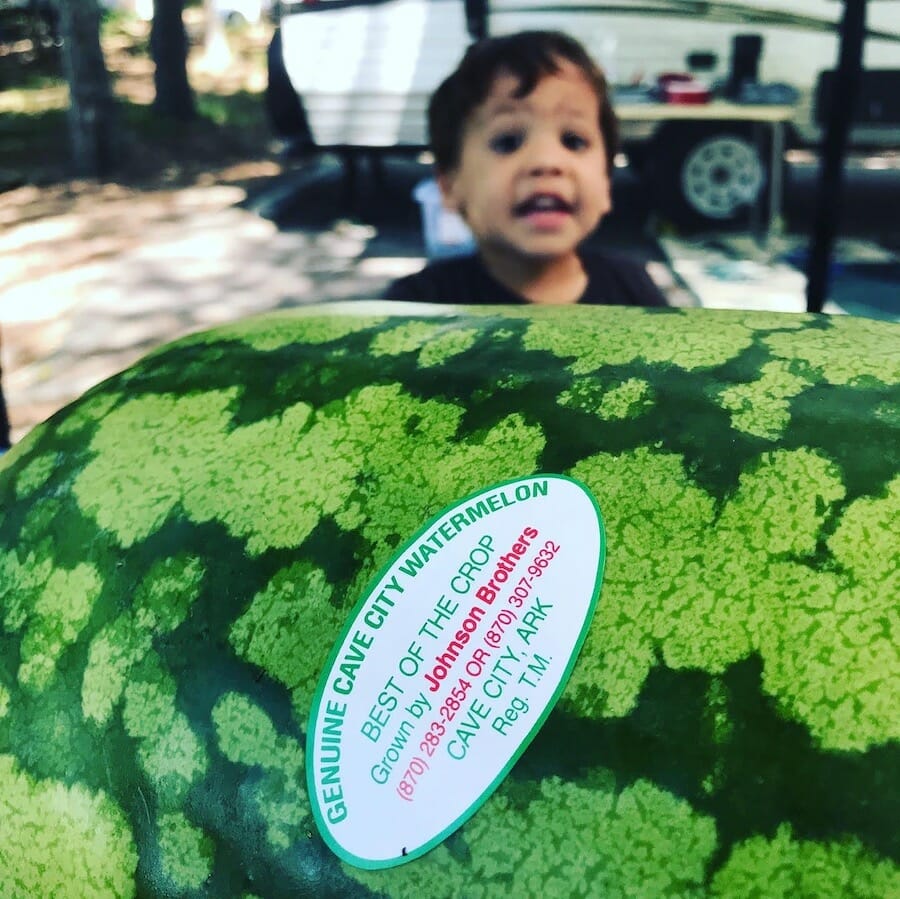 When they are picking, the selection goes fast, so we get there early. That leaves us with a whole day to explore, and the roads out of Cave City lead to interesting locations.
Grab a cooler and gas up the tank because we are heading out in search of good eats, unique treasures and scenic vistas. Our trip starts out in Cave City, but you can travel north to Mammoth Spring or northeast to Black Rock. We've gathered a list of some great stops along the way, so now it's time for you to choose your own adventure.
Author's Note: Some locations may have altered hours, service or be temporarily closed due to Covid. Please contact businesses directly for the most recent hours before planning a destination.
Cave City
Our trip starts in Cave City so whether you choose the route to Black Rock or the route to Mammoth Spring, there are a few places you need to check out before you leave town.
Watermelons – Schedule your trip for mid-July through August and grab a watermelon or two from one of the registered growers. Roadside stands are found throughout the city.
Watermelon Festival – The 2021 Cave City Watermelon Festival is sure to delight. The three-day festival will take place on July 29-31. It will include games, auctions, seed spitting contests, free watermelon feasts, a family "wet zone" park, and live entertainment, including headliner Tracy Byrd.
D & S Rodeo – If you love rodeo and music, you will want to head to the D & S Arena. They host weekly rodeos with events for everyone in the family every Friday night. Additionally, there are several big events with live music throughout the year.
Millie's – From fried catfish to grilled steak to a homemade casserole, you never know what you will find at Millie's, but it's guaranteed to be good eating!
Drifter's Coffee Co. – Grab an incredible pastry and a cup of joe from this mobile/drive-thru coffee shop with a vintage feel. In addition to coffee, you can munch on breakfast and lunch selections as you head through town.
Cin-sations Flea Market – This hidden treasure isn't found on social media, but you will find loads of treasures inside this quaint antique/junk shop!
Pioneer Lane Greenhouse – Fill up your garden with beautiful plants and trees from the Pioneer Lane Greenhouse. They are open 9 a.m.-5 p.m. Monday – Saturday and are located just outside Cave City on AR-230.
Trip A – AR-230 and AR-25 to Black Rock
Travel east/northeast out of Cave City along AR-230 and AR-25. You will pass through the towns of Strawberry, Lynn, Powhatan and Black Rock.
Strawberry
Heritage Bake Shoppe – If you are looking for flavorful baked goods and deli sandwiches piled high with meat, cheese and all the toppings, swing by the Heritage Bake Shoppe.
Lynn
Momma G's – If you haven't grabbed a bite to eat yet, you don't want to miss out on Momma G's home cooking. You can't go wrong with anything on their menu but be sure to order a Cinnamon Roll Iced Coffee!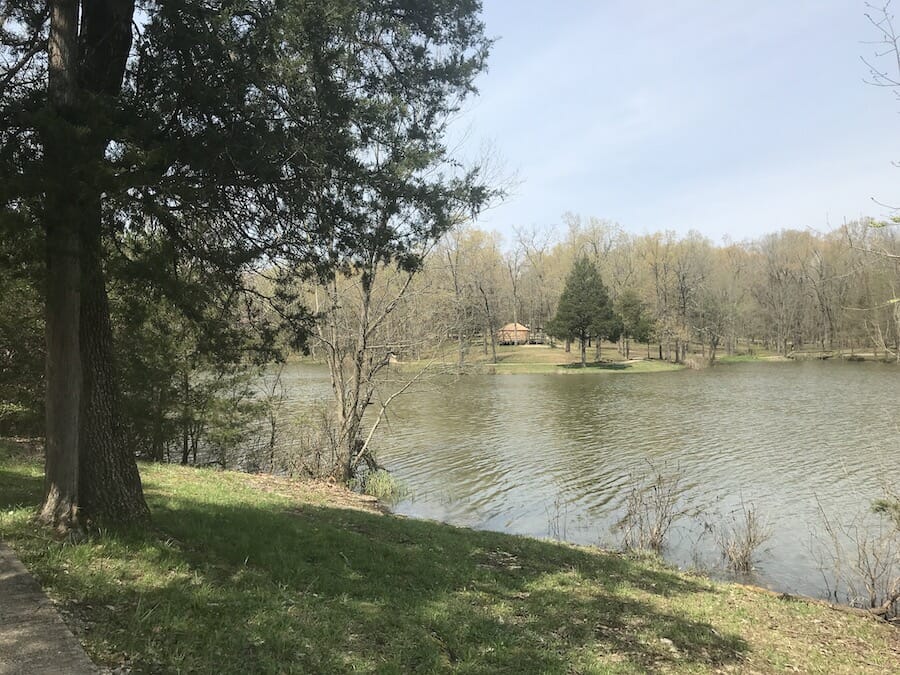 Powhatan
Powhatan served as the Lawrence county seat for nearly 95 years. But the town began a steady decline when it was bypassed by the railroad in the late 1800s. The town's population began to be drawn to the larger area of Walnut Ridge and further declined when the highway was built 2 miles outside of town. Today not much remains but visitors will enjoy the two state parks located within the community.
Lake Charles State Park – Lakeside campsites, swimming, hiking and some of the best crappie fishing in the area draw a lot of people to Lake Charles.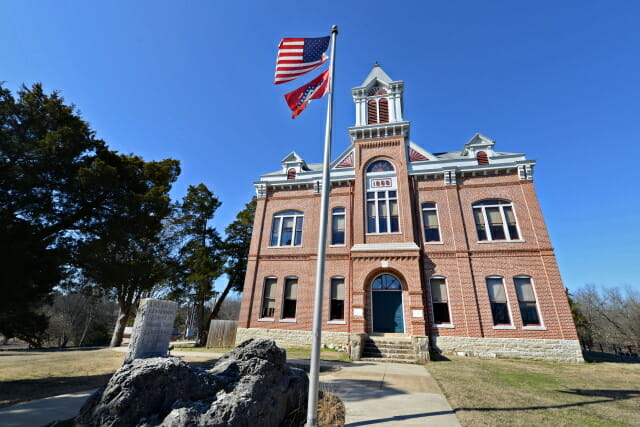 Photo courtesy of Arkansas Parks and Tourism.
Powhatan Historic State Park – Powhatan State Park celebrates the once-thriving community of Powhatan from its heyday as a port on the Black River. The park includes the Courthouse which was constructed in 1888 after the original courthouse burned down along with several historic structures. Visitors can also see remnants of the famous swinging bridge which spanned the Black River until it was dismantled in 1957. Read more about how Powhatan is Frozen in Time.
Black Rock
Wilson Country Supply – Wilson's is one of the coolest spots to visit when you are in the area. They carry a little bit of everything from toys to farm supplies, hunting gear and more. It's the perfect country supply store.
Renee's Cafe – This down-home country restaurant is where you will find the locals hanging out. The food is great and the company is even better. Be sure to stop by on a Friday and order the catfish. If they have banana pudding on the menu, order extra to go!
Black Rock Museum – Although the museum has no set hours, contact the city to schedule a visit and learn about the history of this small town that sits in the gateway to the Ozarks.
Trip B – US-167 to US-62 to US-63 to Mammoth Spring
Head due north out of Cave City for a beautiful trip that will take you through Evening Shade, Ash Flat, Hardy and Mammoth Spring.
Evening Shade
Evening Shade is small but gained some popularity in the 90s when it was the setting for the television show of the same name starring Burt Reynolds. Many exterior shots for the show were filmed in the city and fans may recognize some of the shots.
Historical Marker – An historical marker documenting the Civil War in Sharp County and the Sharp Family in the Civil War can be seen at the corner of West Main and Court Streets.
Historic Places – There are seven properties on the National Register of Historic Places located in Evening Shade. History lovers will enjoy driving past these historic homes.
Evening Shade Farmer's Market – Stock up on some locally grown fruits, veggies and handmade goods at the farmer's market held every Saturday morning.
Woodie's Main Street Cafe – This classic American restaurant serves breakfast, lunch and dinner Wednesday through Saturday. Try the sloppy joe and you won't be disappointed!
Three Chicks Flea Market – This vintage market contains a great collection of merchandise just waiting to be discovered by the next treasure hunter.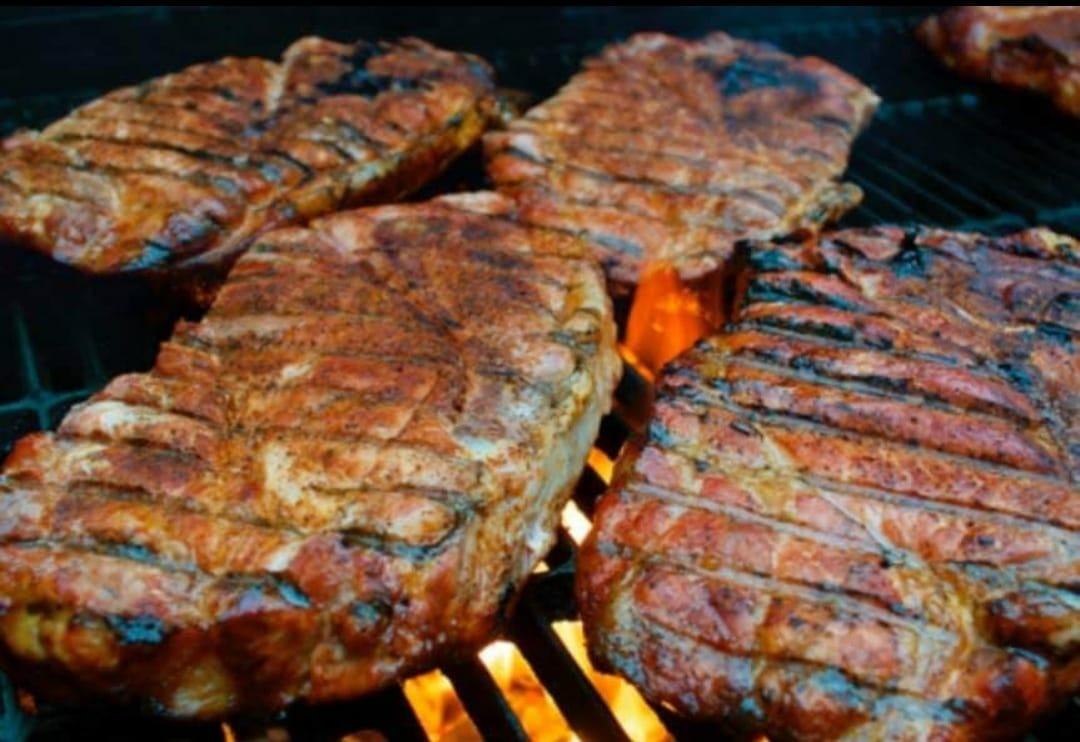 Photo via Artisan Grill
Ash Flat
Big Creek Man Cave – Whether you are looking for sporting goods, ammo, hunting for a rare book, or just seeking a cool find Big Creek Man Cave is the place to shop. With pawn items, overstocks and new merchandise, you never know what you will find.
Far Out & Funky – This fun antique store wears its name well! So many interesting treasures are held within these walls. Record collectors – don't miss a chance to browse their vintage selections!
Meacham's Family Restaurant – This restaurant has been around for over 40 years. Stop in for lunch or dinner and you will know why. You can't go wrong with anything on the menu, but the onion rings alone are worth the drive. Also, be sure to grab a piece of carrot cake if it's on the menu.
Artisan Grill – The Artisan Grill takes the food you love and gives it a flare that makes it more than special. Order with an open mind, and you will enjoy an explosion of flavor like you've never had before.
Daily Deals – This salvage grocery and general merchandise store is one of a kind! The merchandise changes regularly, but if you check in often, you can find your favorite products at deep discounts. You can even take a short side trip to check out their furniture and appliance store in Glencoe.
Highland/Cherokee Village
Tohi Nature Trail – This easy trail is a popular walking and birdwatching trail located just past the WRMC Medical Complex.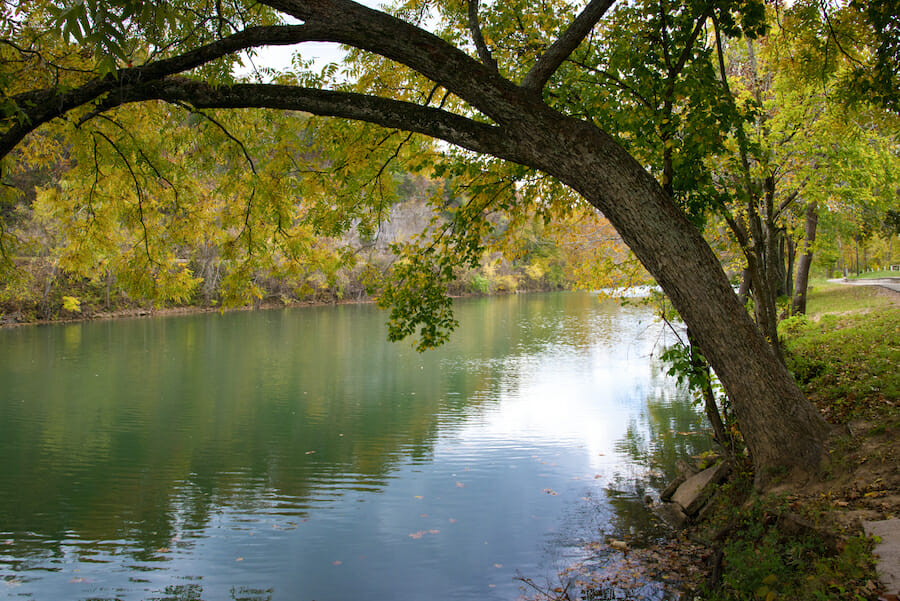 Photo courtesy of Arkansas Department of Parks and Tourism
Hardy
One of the main draws to Hardy is the Spring River and it's a must if you enjoy floating. There are several outfitters in the area that will provide gear and shuttle service so you can enjoy a fun day in the cool waters of the Spring River.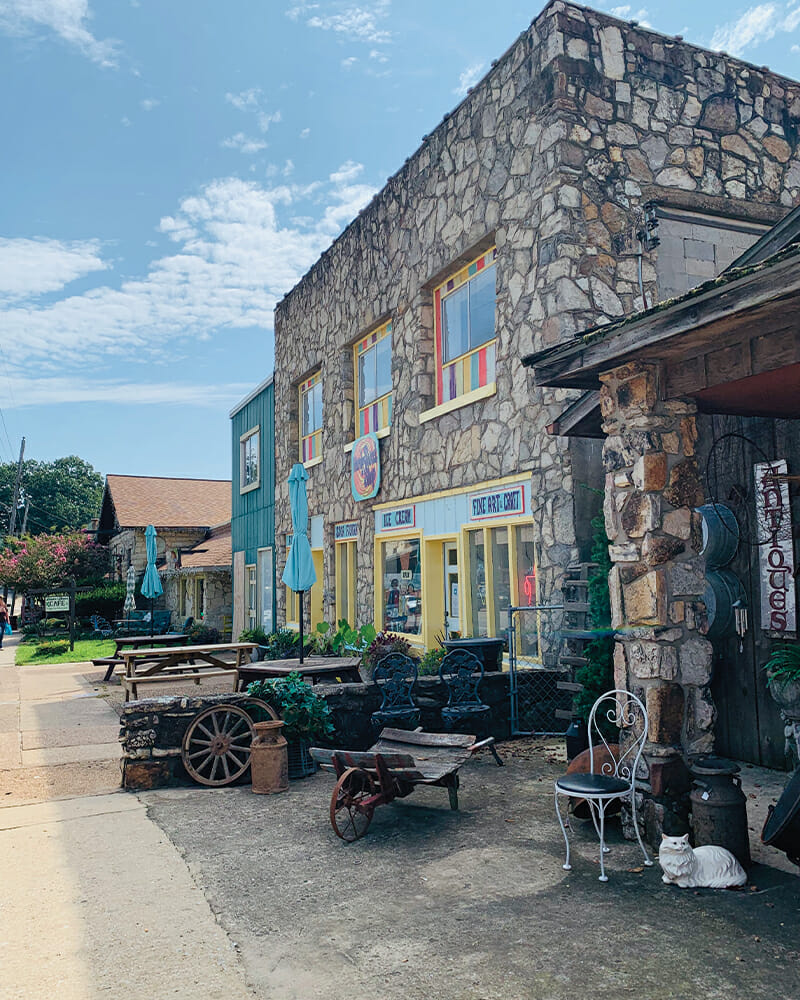 Historic Downtown Hardy – Loaded with unique shops and restaurants, downtown Hardy is a postcard community nestled along the Spring River. There is also a thriving art and music scene. Be sure to "come pause in Hardy" while you travel. It's the perfect spot to embark on a treasure hunt.
Ozark Classic Craft Mall – Like many small businesses, the last year has been difficult. Click here to learn how owner Marc Herring overcame adversity during the pandemic, then stop by and shop the craft mall.
Spring River – The Spring River is a favorite spot to fish, swim and float. The best way to see the river is through one of the local outfitters such as 3 Rivers Outfitters or Spring River Camp and Canoe.

Mammoth Spring
Mammoth Spring is one of the world's largest natural springs. More than 9 million gallons of water flow from it each hour filling a 10-acre lake and flowing into the Spring River. The icy water makes for excellent trout fishing and a beautiful floating opportunity.
Mammoth Spring State Park – The park is home to an old mill and hydroelectric plant, the old Frisco Train Depot and Museum, a park, walking trails and a gift shop. The park is closed on Mondays and Tuesdays.
Spring River – Mammoth Spring is also a popular location for floating the Spring River. Outfitters include Spring River Oaks, Many Islands Camp and Canoe, and Southfork Resort.
Mark's Fly Shop – Anglers that enjoy fly fishing will want to check out Mark's fly shop for all the latest gear and custom tied flies. They carry everything you need for a successful fishing trip on the Spring River.
Mammoth Spring National Fish Hatchery – One of the nation's oldest fish hatcheries established in 1903, it was built to take advantage of the natural spring and proximity to the railroad. Visitors can view their work with paddlefish, sturgeon, Gulf Coast Striped Bass, walleye, and smallmouth bass.
Dear Crossing – If there is a Hot Wheels or Matchbox lover in your crew this shop is a must-see! I could try to tell you how cool it is but you just have to see it for yourself!
Spring Dipper – Cool off with a sweet ice cream treat at the Spring Dipper.
Main Street Mammoth Spring – The bustling Main street area is filled with shops and restaurants for whatever you are in the mood for.
Wood's Riverbend Restaurant – If you love waterfront dining you are in for a treat at Wood's. They offer indoor and outdoor dining and a menu that includes a little bit of everything.
No matter which path you choose from Cave City, have fun y'all and do the watermelon crawl.